Wedding Tips
Our experience with weddings began in 2009. We've worked with so many professional vendors, from photographers, caterers, videographers, DJ's, entertainers, florists, cake decorators and more.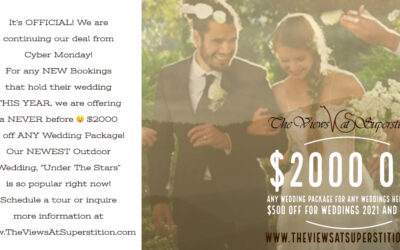 It's OFFICIAL! We are continuing our deal from Cyber Monday!For any NEW Bookings that hold their wedding THIS YEAR, we are offering a NEVER before 😲 $2000 💖 off ANY Wedding Package!Our NEWEST Outdoor Wedding, "Under The Stars" is so popular right now! Schedule a tour...
MON – SUN
9:00am – 12:00am
Don't be shy. Let us know if you have any questions!