Lost Dutchman State Park
Located at the base of the Superstition Mountains just outside of the Phoenix Metro area this location has dramatic desert landscapes, native desert birds, and wildlife. The pathways are not paved but they are not difficult to navigate. There are even longer hikes if you're feeling adventurous! The park does have a $50 fee for photography. The package with The Views at Superstition includes all the set-up to have your wedding here as well.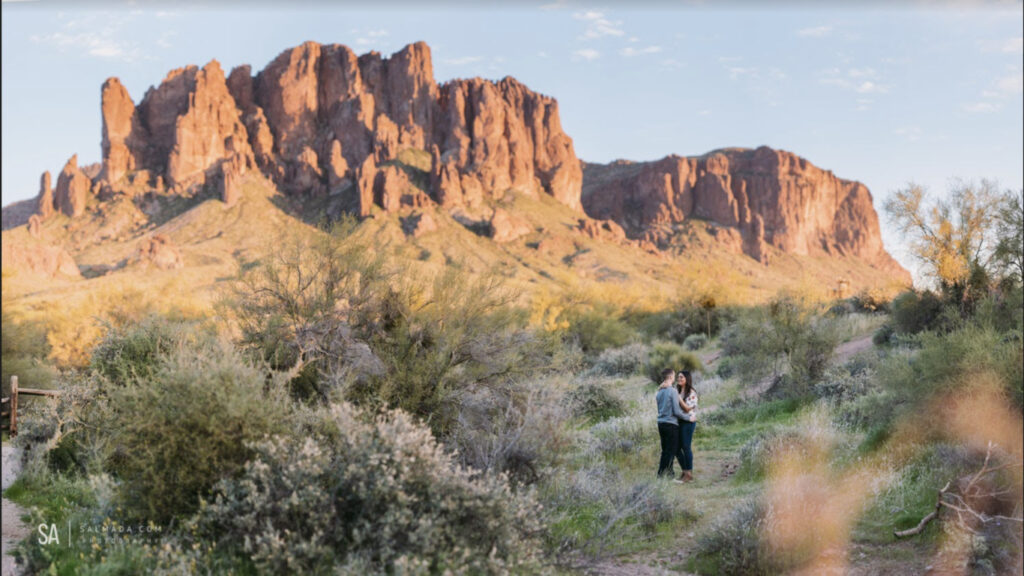 Boyce Thompson Arboretum
– This is a beautiful location year round. It's one of the most diverse of them all depending on the season, as well as being the largest and oldest botanical garden in Arizona. There are multiple bridges including a suspension bridge, historic buildings, hidden gardens and desert plants from all over the world connected by a system of unpaved trails. The package with The Views at Superstition includes all the set-up to have your wedding here as well.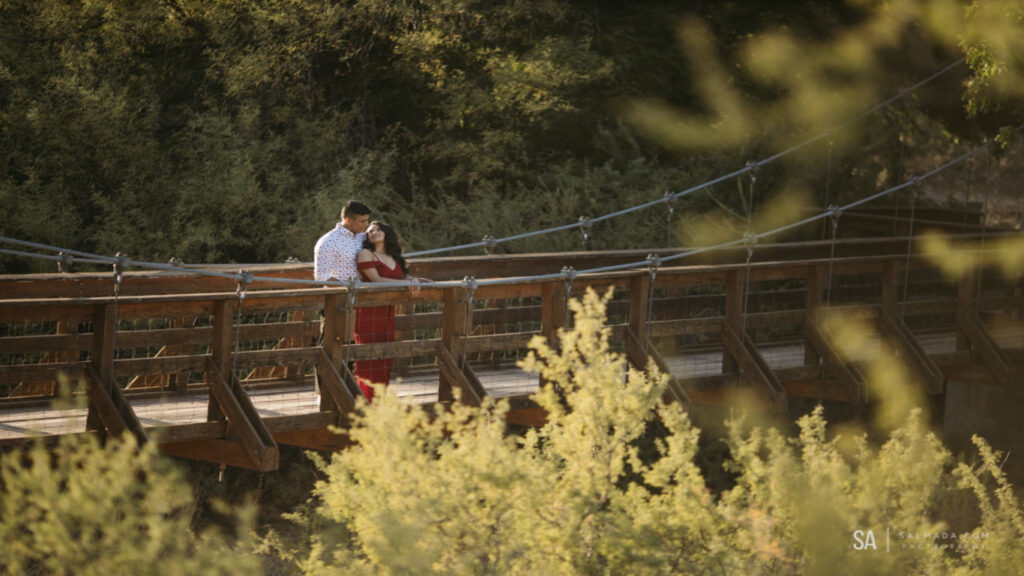 Watson Lake Prescott Arizona
– If you're looking for a nice weekend away as well as including an engagment shoot we
highly recommend Prescott, Arizona. Located about 2.5 hours from the valley this destination location involves beautiful boulders surrounding a breathtaking lake. Sunset turns the sky into an astonishing array of pinks, purples, and other colors that then reflect off the lake along with the boulders. You can hike, bike, and even kayak around the lake before resting under the stars at their campground. This location does not have paved walkways and does require some walking over large rocks.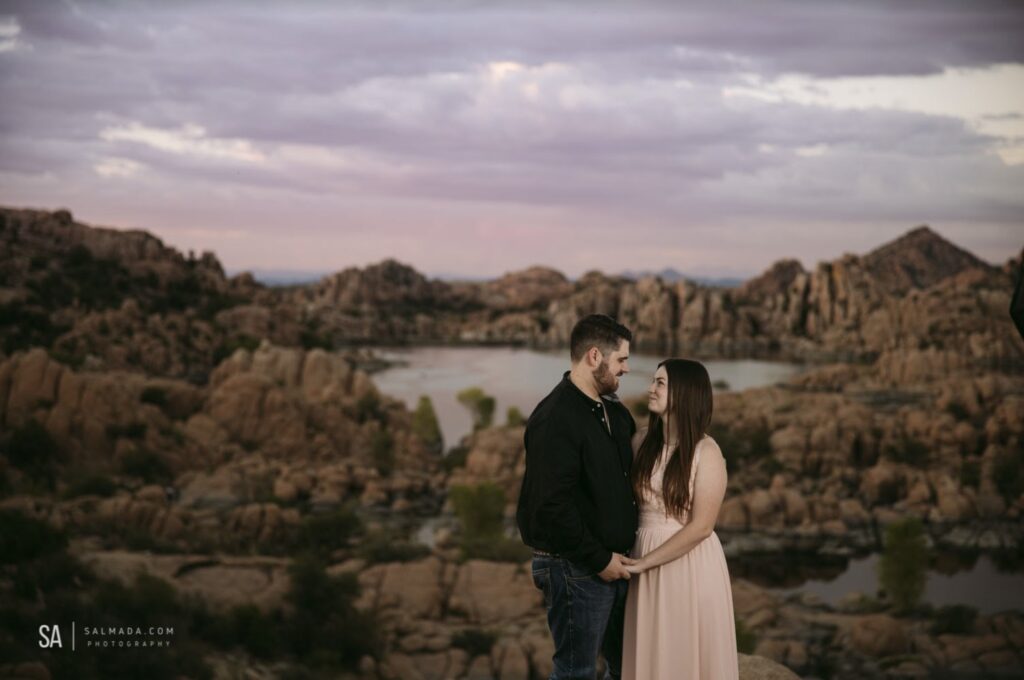 Cathedral Rock Sedona Arizona
– Only 2 hours away from the valley, Sedona is another well known destination location great for a little getaway trip for an engagement shoot. The Cathedral Rock hike offers. the surrounding red rock backdrop views that Sedona is famous for. This hike is not for beginners as it's a mile and a half straight up including an area that's very narrow. requiring hands over feet climbing. However there are spots along the way prior to the incline area that are still beautiful for photos. With that being said we've had multiple clients carry their belongings in backpacks to change at the top with no problem. Sunset here is one of the most breathtaking you'll ever see.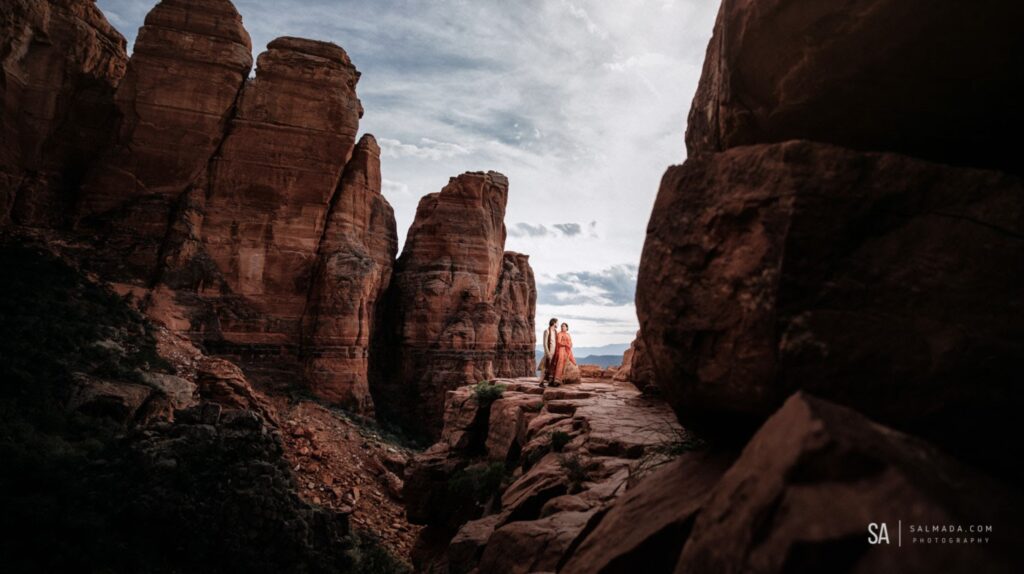 Coons Bluff Campground Tonto National Forest
– Another versatile location depending on the season and sometimes includes a glimpse of the wild horses. During winter we're able to get right up next to the lower salt river. During the summer the dark bark trees with green tops give you a shaded unique desert feel, different from the traditional cacti. We can then catch a gorgeous sunset nearby with a little bit of walking up a hill. There is a fee for the parking lot and the pathways are not paved. Getting close to the river does require a steep decline towards the bank.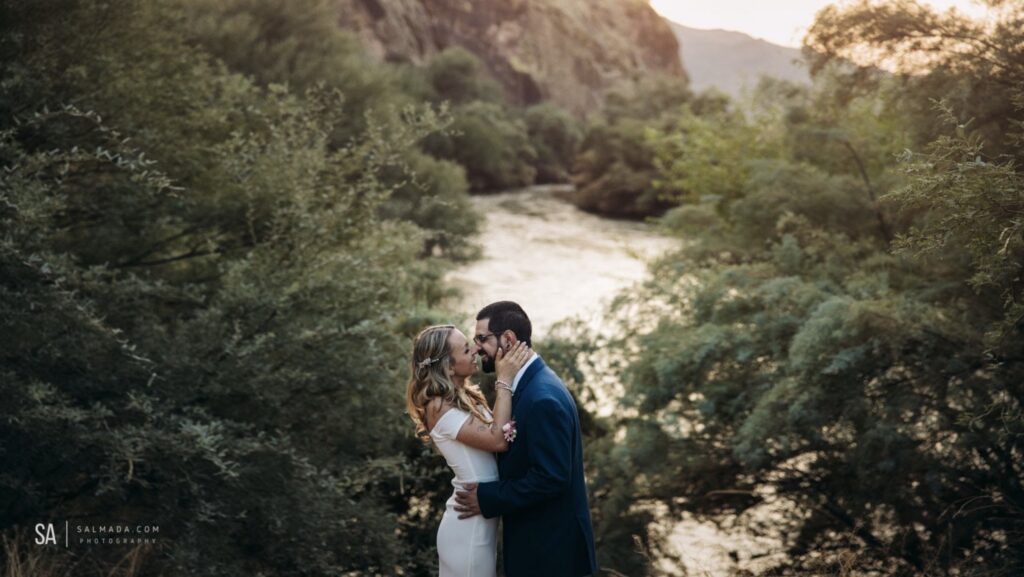 Phoenix Botanical Garden
– This iconic location boasts over 50,000 different desert plants and has been in the valley for over 80 years. With paved walkways and rotating exhibits such as the spring butterflies this is a great place to consider. You get the desert experience with ease. There is no fee for photography, only the entrance fee of $25, weekends and special event days can be crowded.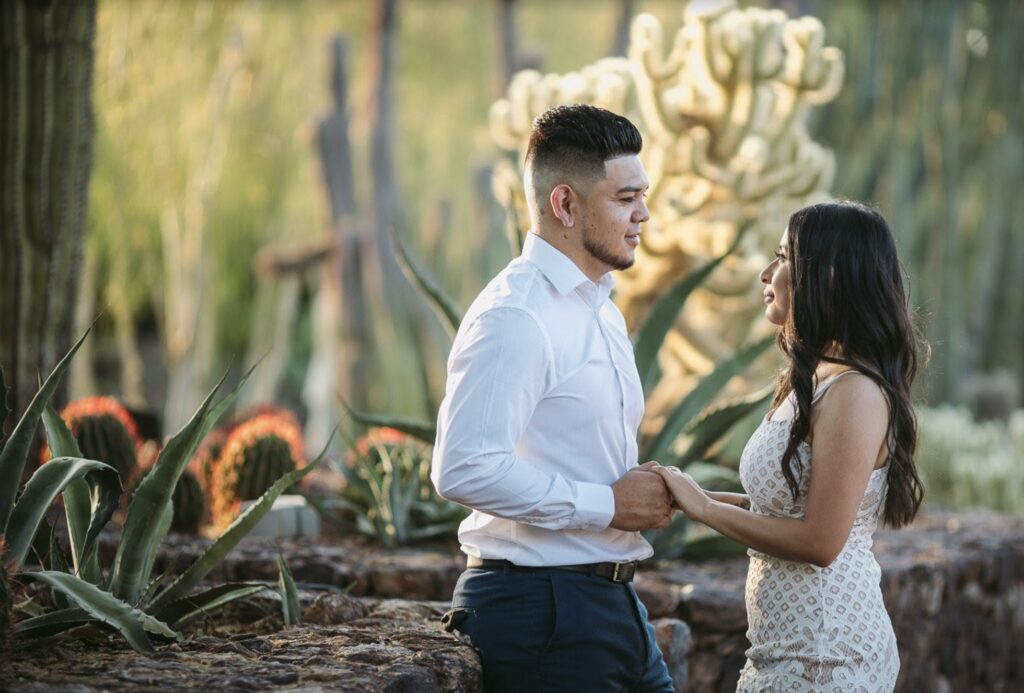 Japanese Friendship Garden
– If you're looking for something less desert and with water this is the perfect place! The
winding pathways go through 3 acres of lush greenery, a myriad of plant life and the
calming zen of a waterfall into a large lake. A reservation is required in advance for this
location along with $150 (after business hours) or $300 (during business hours) fee.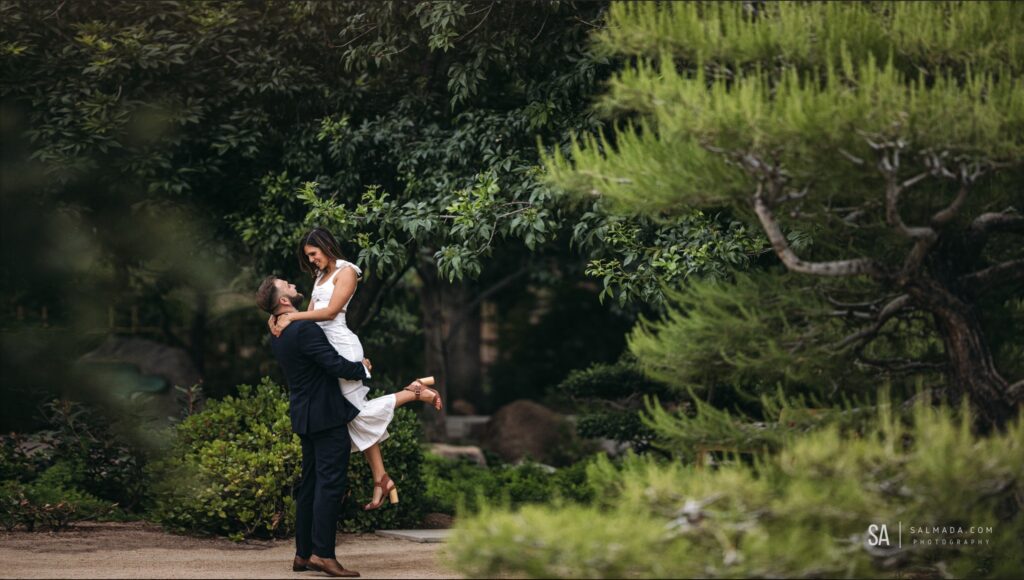 Links
Home page: https://salmada.com
The Views at Superstition resource page: https://salmada.com/the-views-at-superstition
Engagement shoot locations page: https://salmada.com/engagement-shoot-locations